33rd AAS/AIAA Space Flight Mechanics Meeting,
Austin, Texas, January 15-19 2023
The 33rd AAS/AIAA Space Flight Mechanics Meeting, hosted by the American Astronautical Society (AAS) and cohosted by American Institute of Aeronautics and Astronautics (AIAA) will be held January 15-19, Austin, Texas. The conference is organized by the AAS Space Flight Mechanics Committee and the AIAA Astrodynamics Technical Committee.
Coronavirus (COVID-19) Considerations
The conference organizers have decided to hold the 33rd AAS/AIAA Space Flight Mechanics Meeting in person at The LINE Austin hotel in Austin, TX.
Please monitor the conference website for updates on the conference guidelines. We will abide to any applicable local, state, and federal laws.
Abstract and Manuscript Submissions
Abstracts are to be submitted through a web based abstract submittal system. Using the web based system, authors will submit their abstract, author information and preprint before the conference. Authors will also use this site to submit their final manuscript after the conference.
The abstract submittal system will be opened shortly after the Call for Papers is released.
Online Conference Registration
Registration can be accessed at https://www.xcdsystem.com/aas/attendee/index.cfm?ID=SB9aqa8
Registration Type
Early
(On or before Dec 16, 2022)
Regular
(After Dec 16, 2022 through Jan 13, 2023)
Walkups
(After Jan 13, 2023)
Full Registration - Current Member (AAS or AIAA)
$750
$850
$950
Full Registration - Non-member, includes one-year AAS membership
$850
$950
$1050
Student Registration - Current Member (AAS or AIAA)
$450
$550
$650
Student Registration - Non-member, includes one-year AAS membership
$495
$595
$695
Retiree Registration - Current Member (AAS or AIAA)
$450
$550
$650
Retiree Registration - Non-member, includes one-year AAS membership
$500
$600
$700
The online registration system is programmed to accept Visa, Mastercard, Discover and American Express credit cards.
NOTE: Registration fees are calculated at the time of payment. Beginning the registration process without completing payment may result in a higher fee being charged as applicable based upon the early/late/on-site fee schedule shown in the above table.
Registration Cancellations and Refunds: The cut-off date for refunds after registration cancellation is Thursday, January 12th.
Social & Offsite Events
On Sunday there will be a catered welcome reception from 6-8 PM with food and drinks at the conference hotel.
On Monday and Tuesday at around 5 PM, after the regular sessions, we will have special events as described below. Both of these events will be followed with a light reception.
On Monday, in celebration of the Martin Luther King, Jr. holiday, we will have a special panel discussion on the role of mentorship and diversity in strengthening our Astrodynamics community entitled:

Each One Teach One: Building a Better and Stronger Astrodynamics Community

The panel moderator is Dr. Powtawche Valerino (NASA-Marshall), whilst confirmed panelists include Prof. Kathleen Howell (Purdue), Prof. Hanspeter Schaub (Colorado), Ms. Heather Koehler (NASA-Marshall), and Mr. Amalaye Oyake (Blue Origin, TBC).
On Tuesday we will have a special presentation on NASA's DART mission, led by Dr. Julie Bellerose (JPL). After this, the Breakwell Student Travel Awards will be given out.
Each evening we will help organize groups of participants to go out and explore the local Austin music and food scene. There are dozens of music venues within walking distance of the hotel and hundreds of food options, from BBQ to TexMex to Thai, and everything in between. We will have a curated list of music venues and eating establishments to help guide all attendees, as well as sign-up sheets for groups to form.
The receptions on Sunday, Monday, and Tuesday are included with every registration (Full, Student, and Retiree).
You can purchase additional tickets for your guest to attend all of the receptions during the online registration process as follows:
| | |
| --- | --- |
| 1x extra Reception ticket (Sunday, Monday, Tuesday) | $125 |
| 2x extra Reception tickets (Sunday, Monday, Tuesday) | $250 |
Conference Hotel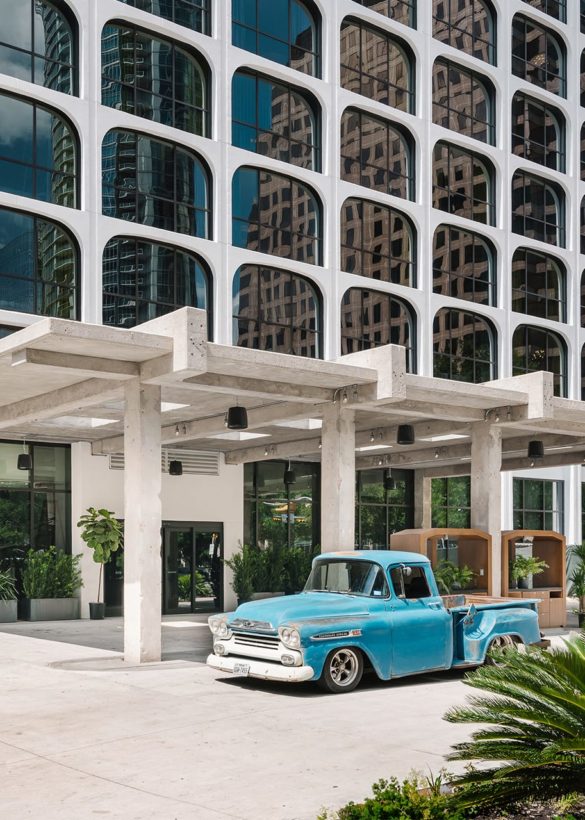 General Inquiries
The LINE Austin Hotel
111 East Cesar Chavez
Austin, Texas 78701 USA
Phone:+1 512-478-9611

Important Information for Attendees Checking out on Thursday, January 19th
Please note that the conference discounted room block at The LINE Austin hotel is now filled. We note that The LINE is offering additional available rooms while supplies last, but not at the discounted rate. Please visit the hotel's website to make a reservation. The General Chairs note that there are several nearby hotels to The LINE in case you want to explore other options.
Conference Chairs
AIAA General Chair
Dr. Rohan Sood
The University of Alabama
rsood(AT)ua.edu
Banner Image Credits (from left to right):
https://unsplash.com/photos/HCcmfL-l08I
https://unsplash.com/photos/5xggCLWhoVI
https://unsplash.com/photos/KIFEQ82Rxgc