2022 AAS/AIAA Astrodynamics Specialist Conference,
Charlotte, North Carolina, August 7-10 2022
The 2022 AAS/AIAA Astrodynamics Specialist Conference, hosted by the American Astronautical Society (AAS) and cohosted by American Institute of Aeronautics and Astronautics (AIAA) will be held August 7-10, Charlotte, North Carolina. The conference is organized by the AAS Space Flight Mechanics Committee and the AIAA Astrodynamics Technical Committee.
Coronavirus (COVID-19) Considerations
The conference organizers will make a final decision on the conference modality (i.e., in-person, hybrid, or remote) by the first week of March 2022.
Please monitor the conference website to plan your participation accordingly. If an in-person conference is possible, attendees will be expected to monitor and follow all conference guidelines, and any applicable local, state, and federal health advisories and regulations.
Abstract and Manuscript Submissions
Abstracts are to be submitted through a web based abstract submittal system. Using the web based system, authors will submit their abstract, author information and preprint before the conference. Authors will also use this site to submit their final manuscript after the conference.
Offsite Event Information
The offsite event will be held at the NASCAR Hall of Fame, home of the American auto racing history and heritage.
Jammed-packed with traditional exhibits, the Hall of Fame is fueled with more than 50 interactive experiences like tire-changing stations and realistic racing simulators. The museum has plenty of exhibits with artifacts and NASCAR collections; all designed to get your adrenaline going.
Conference Hotel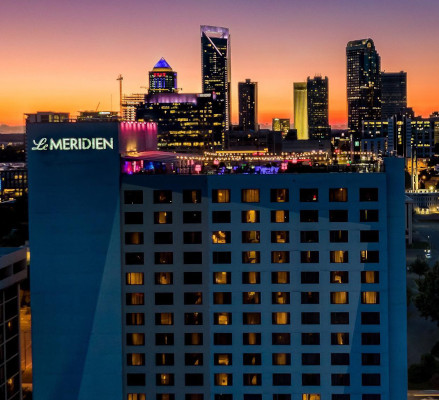 General Inquiries
Le Meridien Charlotte
555 South McDowell Street, North Tower
Charlotte, North Carolina 28204 USA
Phone:+1 704-372-9610
Fax:+1 704-626-3658
Toll-free:+1 888-627-7189

Additional Information:
The nightly rooms rates are $130 per night.
Rates will be at the prevailing government per diem at the time of the conference.
Complimentary Wireless Internet
Complimentary Meeting Space
Complimentary Fitness Room Access
3 day pre- and post-conference rate availability
Outdoor Pool
Conference Chairs
AAS General Chair
Dr. Simone D'Amico
Stanford University
damicos(AT)stanford.edu

AIAA General Chair
Dr. Ossama Abdelkhalik
Iowa State University
ossama(AT)iastate.edu

AAS Technical Chair
Dr. Natasha Bosanac
University of Colorado Boulder
natasha.bosanac(AT)colorado.edu

AIAA Technical Chair
Dr. Atri Dutta
Wichita State University
dutta.astro22(AT)gmail.com


Banner Image Credits (from left to right):
https://www.northeastern.edu/graduate/blog/wp-content/uploads/2019/04/charlotte.jpg
https://urbanoutdoors.com/wp-content/uploads/2020/04/Depositphotos_22055197_l-2015-1024x676.jpg
https://eu.reporternews.com/story/news/columnists/greg-jaklewicz/2018/11/08/nascar-hall-fame-got-my-motor-runnin/1906647002/