29th AAS/AIAA Space Flight Mechanics Meeting,
Ka'anapali, HI
The 29th AAS/AIAA Space Flight Mechanics Meeting, hosted by the American Astronautical Society (AAS) and cohosted by American Institute of Aeronautics and Astronautics (AIAA) will be held January 13-17, 2019 at the Sheraton Maui Resort & Spa in Ka'anapali, HI. The conference is organized by the AAS Space Flight Mechanics Committee and the AIAA Astrodynamics Technical Committee.
Abstract and Manuscript Submissions
Abstracts are to be submitted through a web based abstract submittal system. Using the web based system, authors will submit their abstract, author information and preprint before the conference. Authors will also use this site to submit their final manuscript after the conference.
Online Conference Registration
Attendees to the conference are encouraged to utilize the online registration system. Registering online will provide several benefits. You will avoid the lines at the registration table and you will have free access to preprints. Free access to preprints will only be available to people registering through the online system. Registering online will also reduce the workload on the conference organizers.
Early
(On or before Nov 30, 2018)
Normal
(On or before Dec 31, 2018)
Walkup
(After Dec 31, 2018)
Full registration - Current member (AAS or AIAA)
$600
$670
$770
Full registration - Non-member (incl. 1 yr AAS membership)
$700
$770
$870
Retiree registration - Current member (AAS or AIAA)
$250
$320
$420
Retiree registration - Non-Member (incl. 1 yr AAS membership)
$300
$370
$470
Student registration - Current member (AAS or AIAA)
$250
$320
$420
Student registration - Non-member (incl. 1 yr AAS membership)
$295
$365
$465
The online registration system is programmed to accept Visa, Mastercard, Discover and American Express credit cards.
NOTE:
Registration fees are calculated at the time of payment.
Beginning the registration process without completing payment may result in a higher fee being charged as applicable based upon the early/late/on-site fee schedule set by the General Chairs.
"Normal" rates go into effect after midnight on November 30, 2018. "Walkup" rates go into effect after midnight on December 31, 2018. Attendees may still register in person at the registration table.
Please note that the first 279 to register and/or purchase a guest ticket will be guaranteed a ticket for admission to the Tuesday evening Old Lahina Luau. After that we will contact the luau to request additional tickets based upon available seating. The Old Lahina Luau usually sells out weeks in advance. Register Early!
Offsite Event Information
The offsite event will be held at the Old Lahaina Luau on Tuesday January 15, 2019 from 5:15pm to 8:15pm. Bus transportation from the Sheraton Maui Resort to the Old Lahaina Luau will be provided. Buses will depart the group pickup area at the hotel at 5pm.
Currently we have half of the luau grounds reserved and can accommodate the first 279 guests that register and/or purchase a guest ticket. Both full and reduced registrants will receive a luau ticket until our reserved block is full. After that, the GCs will work with the luau upon space availability to accommodate additional attendees. The Old Lahaina Luau is famous and known to sell out. The sooner you register the more likely we can accommodate additional guests. Guest tickets are $120 and sales of guest tickets will be discontinued after we reach our maximum attendance.
The Old Lahaina Luau Buffet Ingredients List can be found here. All ingredients for menu items are listed. If you feel that there are not menu options available to you for dietary reasons, please let the GCs know and we will do our best to accommodate you.
Conference Hotel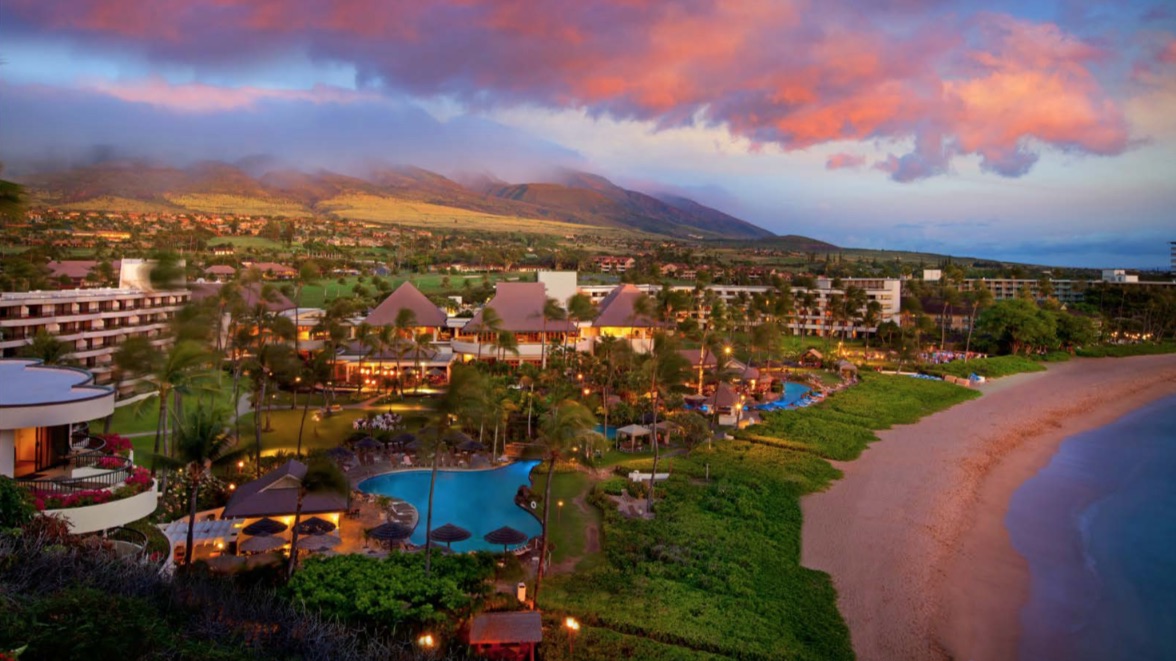 General Inquiries
Sheraton Maui Resort & Spa
2605 Kaanapali Parkway
Lahaina, Maui, HI, 96761
808-661-0031 (voice)
888-627-8114 (toll-free)
Conference Reservations
Reservation Website
808-921-4645 (voice ... weekdays 7:00am - 6:00pm, Sa 8:00am - 4:00pm, all times HST)
1-800-782-9488 (toll-free)
Rate: $259/night ... available until December 14, 2018 5:00pm HST
Additional Information
A deposit equal to two (2) nights is required to hold each guest's reservation.
Deposits are refundable if notice is received by Hotel at least thirty (30) days prior to arrival and a cancellation number is obtained. An early departure charge of one (1) night room plus tax will apply if a Customer attendee checks out prior to the confirmed checkout date.
Rates will be available three (3) days prior and three (3) days after the Event Dates indicated in the Room Block, subject to availability of group rate and guest rooms at the time of reservation.
All rates quoted are single or double occupancy. The current rate for a third person in the room is $80.00, plus tax per night. Children seventeen (17) years of age and younger are free of charge when sharing the same room as parent(s), maximum of four (4) persons to a room. Third person charge subject to change.
Rates do not include applicable state and local taxes, currently 13.4166% or the mandatory Resort Charge of $20.00 plus tax of 4.166% per day, per room (Originally at $25.00) No automatic or mandatory charges are tips, gratuities, or services charges for employees, unless otherwise expressly stated. Resort charge, taxes and resort charge inclusions are subject to change.
Dally Resort Charge Service Inclusions (inclusions subject to change without notice):

Unlimited wireless high-speed internet access in guest rooms
Unlimited wireless high-speed internet access in lobby, pool bars, and Hoku Rotunda
Valet parking on the day of arrival (first night only)
Unlimited local telephone calls (on-island)
Credit card and 800# access telephone calls up to 60 minutes
Starwood Maui scheduled shuttle service to Westin Maui Resort and Spa, Westin Ka'anapali Ocean Resort Villas, and historic Lahaina town
Adult Pool Floats
Professional resort photo session and keepsake 4 x 8 photo
Signature logo Hawaiian tote bag

Daily self-parking charge, starting on the 2nd night, will be $20.00 plus tax with arrival night complimentary valet parking included in the daily resort charge.
Other Hotel Options
Although conference rates cannot be guaranteed, suggestions for other hotel options in the area are listed below. Further information is available on
VRBO
and
Airbnb
.
The Westin Maui Resort and Spa
Kaanapali Alii Resort
Hyatt Regency Maui Resort
Royal Lahaina Resort
Honua Kai Resort and Spa
The Westin Kaanapali Ocean Resort Villas
The Ritz-Carlton Kapalua
Marriott's Maui Ocean Club Lahaina
Air Transportation
All flights to the conference should arrive at Kahului Airport (OGG). Hawaii has strict import/export rules for fresh food products, animals, meats, and plants. For more information, follow the links for US mainland to Hawaii and International travel to Hawaii.
Ground Transportation
SpeediShuttle provides shared ride airport transportation in Mercedes shuttles at a per person rate of $35.40 one way, $67.26 round trip (10% discount on return when booked together) between OGG and Sheraton Maui. Guests with prearranged arrival reservations are met in the baggage claim area, then directed to their waiting shuttle. Vehicle amenities include complimentary Wi-Fi, 6'1" headroom, three point seat restraints, adjustable headrests and roomy comfortable seats.
Roberts Hawaii (808-439-8800) additionally provides an airport shuttle service that is $34 each way or $68 round trip (plus tax and possible baggage fees).
Maui Weather Information
December through February have the lowest temperatures for the year. Keep in mind that it's still plenty warm in many areas. With regular showers, these winter months are home to the wettest Maui weather of the year. In January, tradewinds only blow half as much as they do in the summer. Throughout the winter, generally from November to March, large North Swells create big surf on our North and Northwest facing beaches. The ocean temperature is approximately 75 F, and the air temperature averages between 65-80 degrees F depending on which area you're in. For Ka'anapali, the average temperature is closer to a high of 79 degrees F during the day and overnight lows of 64 degrees F with about 6 rainy days per month on average.

From the crater at Haleakala's summit, you can watch Maui weather being made. On a typically warm day, trade winds carry moisture-laden air up the northeast slopes of Haleakala. As the moisture rises, it cools and condenses into the cloud layer that frequently rings the mountain. Rising warm air often pushes the clouds up through Ko'olau Gap and Kaupo Gap. As the evening air cools, the clouds drain out of the valley and the cycle begins again. Haleakala influences weather all around the volcano. Average annual rainfall varies from about 400 inches (1,000m) in the high-elevation rain forest above Hana to 10 inches (25 cm) in Kihei, only about 15 minutes apart. Because temperatures drop about 3.2F (1.3C) every 1,000 feet (305m), the summit of Haleakala is roughly 32F (13C) cooler than the beaches.
For more information on Maui weather, please follow this link.
Conference Chairs
AAS General Chair
Dr. Matthew Wilkins
P.O. Box 1102 (Mailing)
10440 Little Patuxent Pkwy (Physical)
Columbia, MD 21044
(410) 715-0005
mwilkins(AT)applieddefense.com
AIAA General Chair
Dr. Renato Zanetti
The University of Texas at Austin
Austin, TX 78712-1221
(512) 471-5145
renato(AT)utexas.edu
AAS Technical Chair
Dr. Francesco Topputo
Department of Aerospace Science and Technology
Politecnico di Milano
Via La Masa, 34
20156, Milano Italy
+39 02 2399 8351
francesco.topputo(AT)polimi.it
AIAA Technical Chair
Dr. Andrew Sinclair
Air Force Research Laboratory
3550 Aberdeen Ave SE
Kirtland AFB, NM 87117
(505) 846-0197
spaceflight2019(AT)gmail.com